Lifestyle summary of Nathan Francis (typical target audience)
Nathan is a 18 year old mix-race male who attends St Charles Sixth form Colleges. He's currently taking Music, Media, Drama and English, he's aspiring to be a music events manager.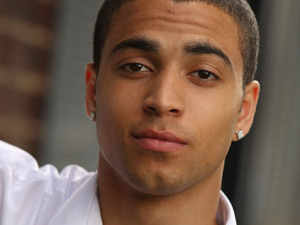 Nathan Francis
On a saturday night you may find the following items in his sidebag.
His Blackberry
Juicy fruit chewing gum
Moped keys
House keys
Carmex
Cigarettes
Lighter.
On a saturday night Nathan is most likely to be getting ready to go out raving out with his two close friends, Jerome and Tion.
They usually goto IF bar in Ilford, sometimes Nathan performs on stage as in his spare time he raps.
Also in his spare time he likes to see his girlfriend Sasha and her family, most Sundays he goes to her house for sunday dinner. Nathan and Sasha love watching films when together, which are usually rented or at the cinema. The last 5 films they watched at the cinema were:
The Rite
Anuvahood
Unknown
Number 4
West is West
The last 5 rented films they watched were:
Chopper
Salt
Im gunna git you sucka
Grownups
Friday
Nathan enjoys comedy, actions films, and horrors, however sasha hates horrors so they both watch thrillers together.